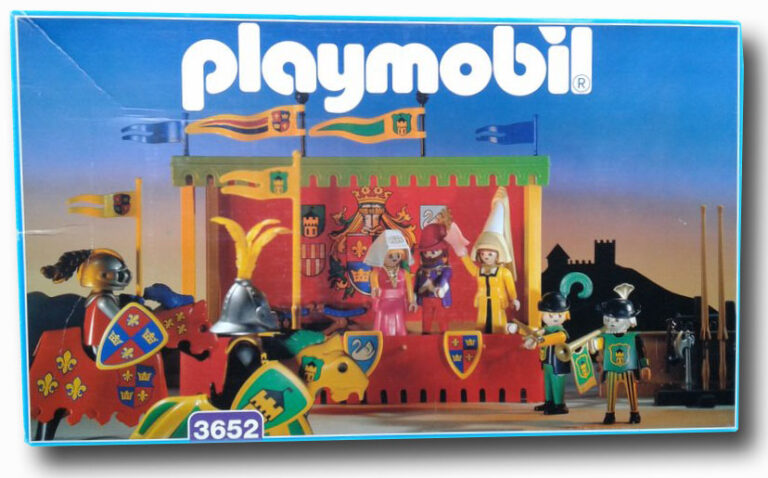 Starting with the Playmobil Tournament set 3652, we have a magnificent tent for the prince and princesses to watch knights fighting for a reward – that being a golden sword, a title or the hand of a lady.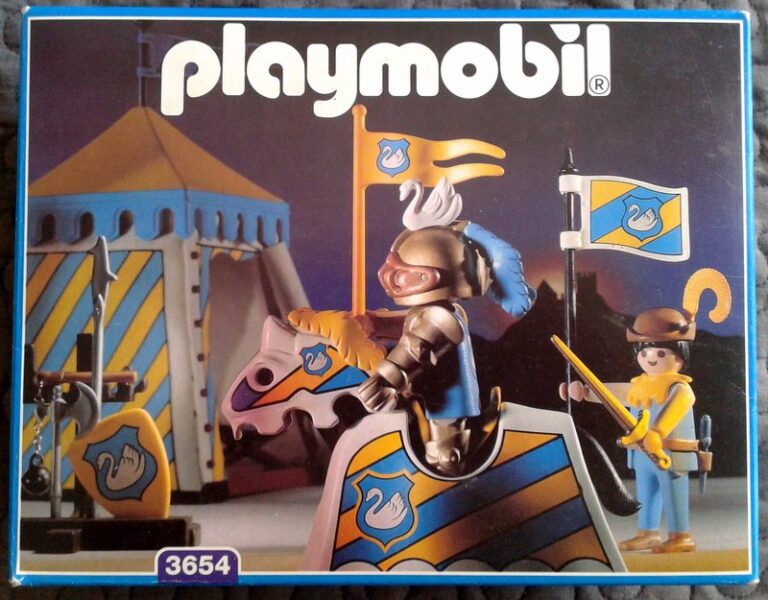 In addition, Playmobil set 3654 introduced a new knight for the tournament set, the Swam Knight, accompanied of an assistant. The Swam Knight comes with a neatly furnished tent and a rack full of weapons.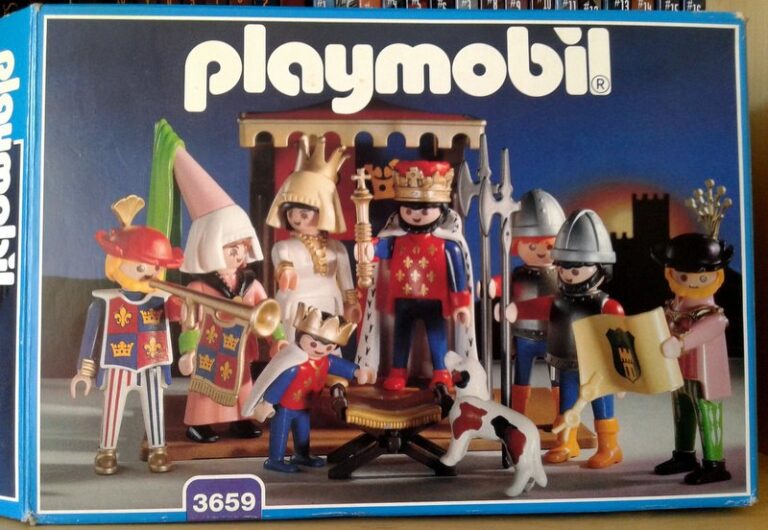 With set 3659, Playmobil released the King and Queen of the Royal (Red) Knights, among them a messenger, two Royal Guards, a little prince, a Lady and a Trumpet man – and why not a little puppy?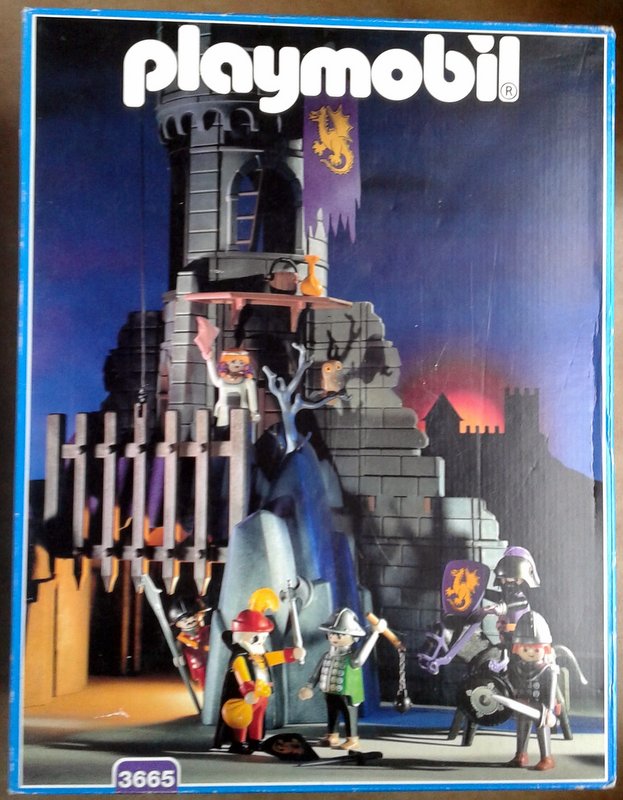 Playmobil set 3665 was underrated back in the 90's, some toy companies (other countries) didn't even release this tower, yet it is the best looking and most awesome tower ever made by Playmobil: The Red Baron's tower!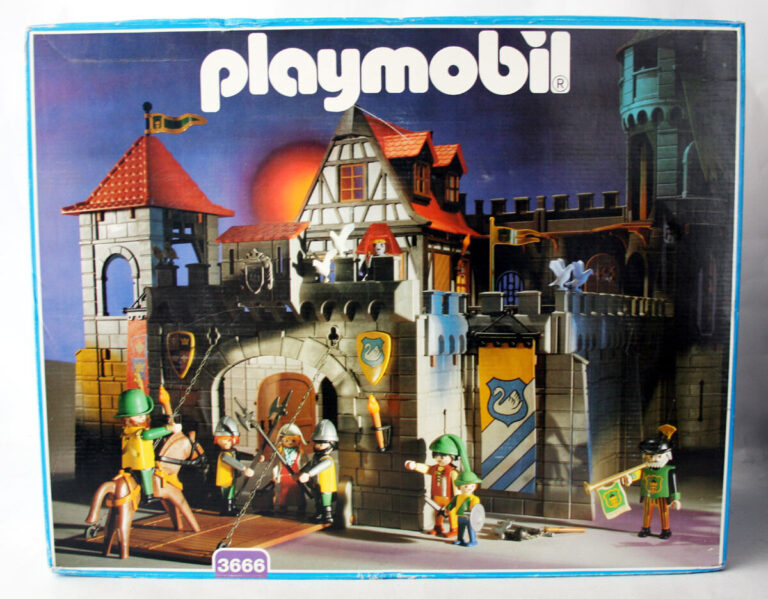 Playmobil set 3666 remains as the coolest vintage castle ever made! So large you can sit inside of it (if you are small enough). This magnificent fortress comes full of accessories and characters. This set includes two royal castle guards, a vagabond and his son. The kid is shown training with wooden swords on the cover of the box art.
This castle is gigantic, with several rooms to play in, a throne room, dining room and even a cellar. Set 3666 also connects to set 3667 and 3888 making it the largest Playmobil castle to date.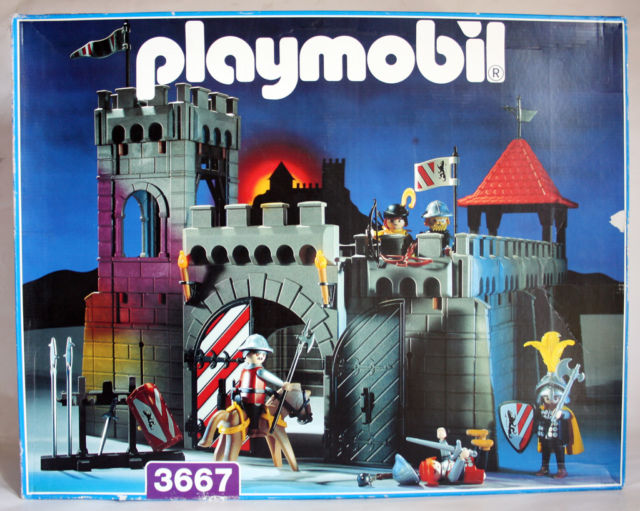 Playmobil set 3667 is one of my personal favorite castles. Perfectly nostalgic, following basic castle construction and strategy, plus it includes five characters fully equipped with weapons of war.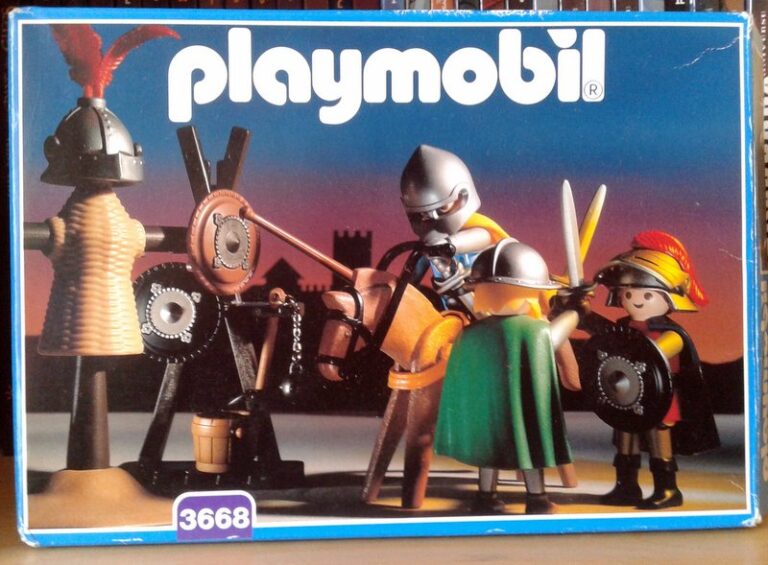 There is no Tournament without training. So here is Playmobil set 3668, the training knights. You get one knight of each faction: The Castle Knight (Green), the Royal Knight (Red) and the Swam Knight (Blue), all of them ready to train using a rotating dummy. They are all allies and live in the large Playmobil castle 3666.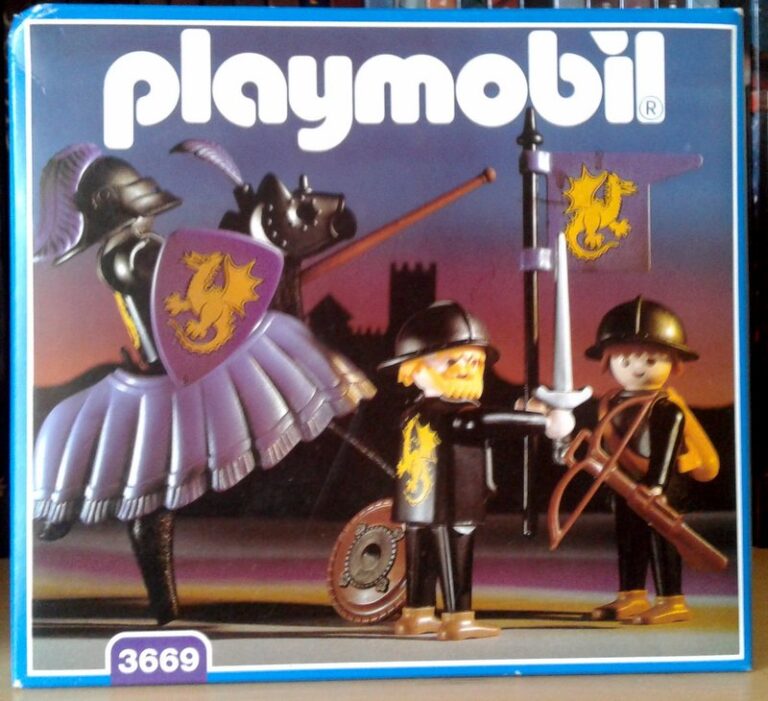 A mysterious purple and black knight comes into play, as of Playmobil set 3669, giving the Red Baron's kingdom a Knight to participate in the tournaments. A fully equipped knight and two assistants, increasing the numbers of soldiers to protect the Dragon Tower.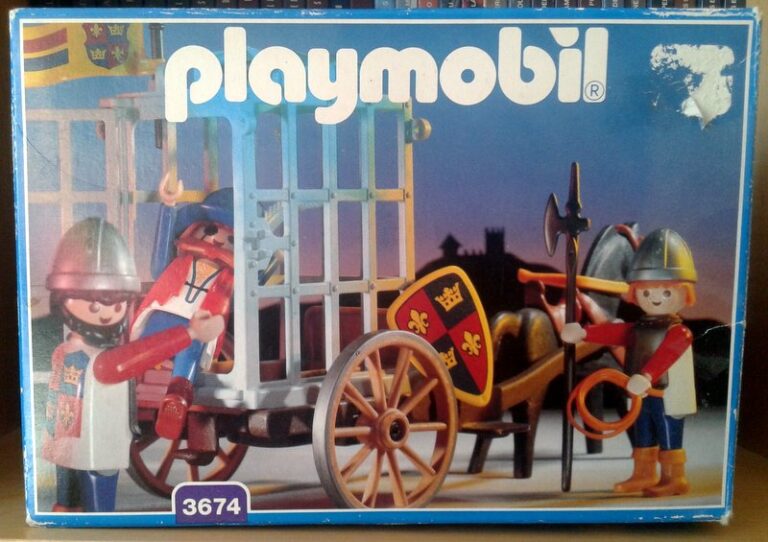 The Prison Chariot, Playmobil set 3674, with two Royal guards to ensure the prisoners can't escape, much less be rescued by a small army. This set has a horse and a cage to transport criminals from one castle cell to another in safety.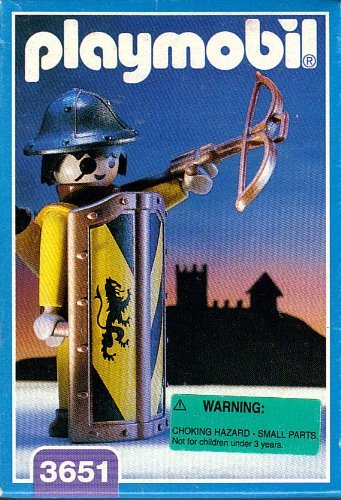 Playmobil set 3651 comes in a very small box, a single yet awesome character: The Lion Knight Archer! He introduces the first version of the tower shield and a cool eye patch.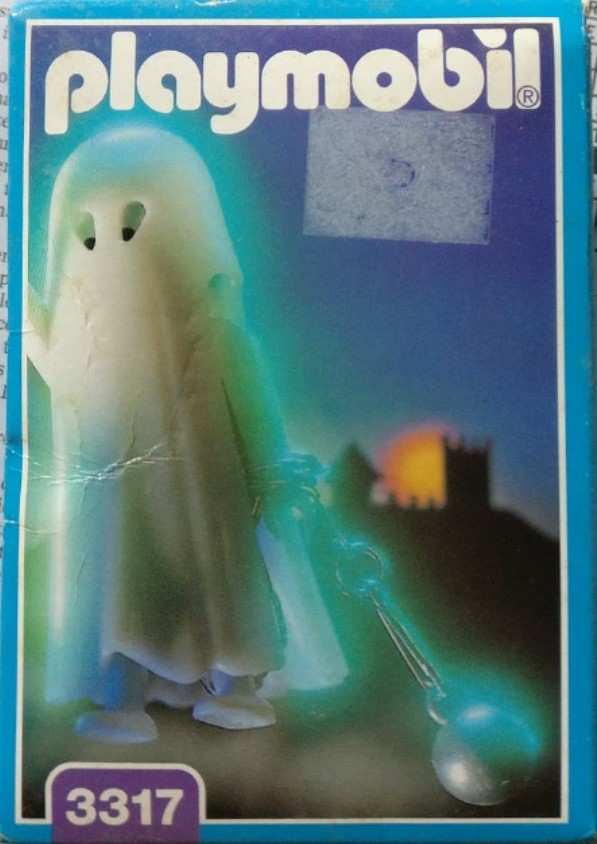 Playmobil set 3317 is a neatly cool glow in the dark Ghost! Not just that, but Playmobil realized that old medieval castles are so old, they should be haunted by ghosts as well. The ghost carries an actual chain and heavy metal ball around his feet.
1998 Playmobil Add-On
The images below show the three options for Add-Ons that Playmobil released in 1998 to complement the soldiers of each castle 3665, 3666 and 3667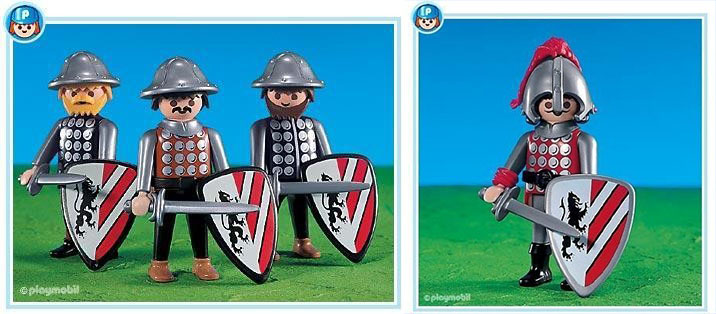 We have the Lion Knights Leader, set 7665 and three lion knights soldiers, set 7664. Totaling in four new knights to add to the castle set 3667.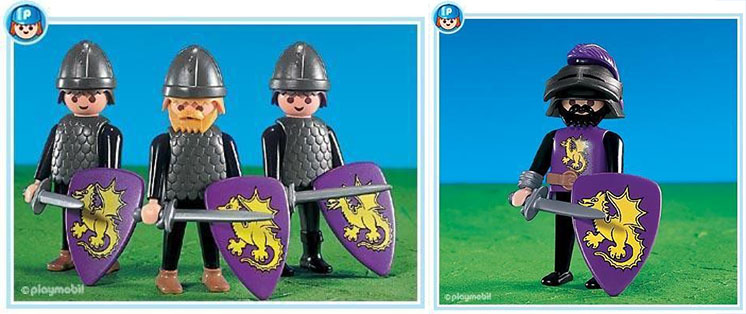 Above we have the Golden Dragon Leader from set 7672, and three golden dragon soldiers, from set 7671 to increase the population of the Red Baron's tower, Playmobil set 3665.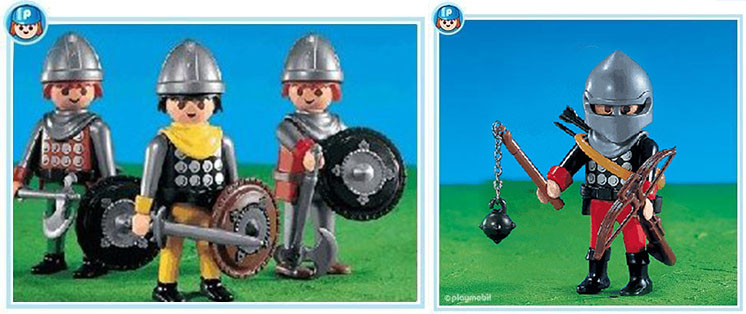 And at last, above we have the Knights Captain set 7674, with three new soldiers, set 7673, each matching one of the allied factions of the Playmobil Castle Set 3666.